The second combo meal that I am posting is dosa and vadacurry. I think I have written a lot about idly and dosa. Being from madurai, I couldn't stop writing about them :-) :-) Here are the posts about idly and dosa.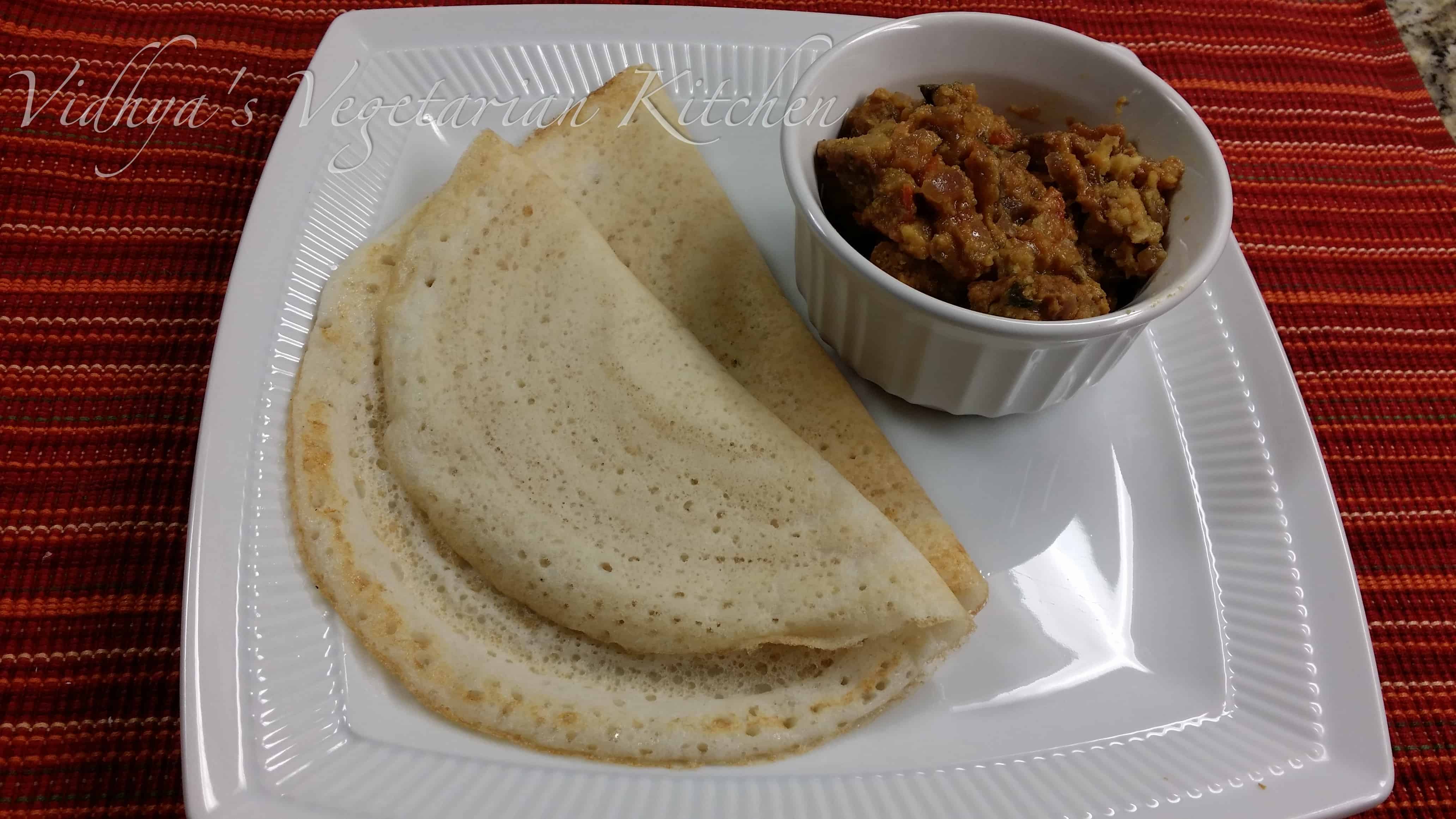 For me vadacurry is a mix between sambhar and kuruma. I have experimented this recipe in multiple ways and finally ended up with this one as this was approved by all the family members. :-) :-) Usually for this recipe, you use the left over paruppu vadais. As the recipe is going to be a lengthy one, I am not writing a big story and all. Here is the recipe,
Step 1:
Preparing the vadai:
Channa dhal (kadalai paruppu) – 1 cup
Red chillies – 3
Hing – 2 tsp
Turmeric – 1 tsp
Medium onion – finely chopped
Saanf / Big jeera – 1 tbsp
Cilantro finely chopped – 1 tbsp
Salt – 1.5 tsp
Rice flour – 1 tbsp
Water for soaking the dhal
Oil for frying
Method:
Soak the dhal and chillies for about 1 hr.
Grind the dhal along with red chillies into a coarse paste.
Now add all the other ingredients, hing, turmeric, chopped onion, cilantro, saanf, salt and rice flour and mix well.
Heat the oil and once the oil is hot, flatten the vada mix and fry them.
You can make these vada well ahead and you can use the left over ones too for the curry.
Step 2:
Preparing the vadacurry:
Paruppu vadai prepared as above – 5 to 6
Medium onion – 1 finely chopped
Tomatoes – 3 chopped
Sambhar powder – 1 tbsp
Oil – 2 tbsp
Turmeric – ½ tsp
Mustard seeds – 1 tsp
Ginger garlic paste – 2 tsp
Salt – 2 tsp
Water – 1.5 cups
To grind

Coconut – ½ cup
Poppy seeds – 1 tsp
Cardamom – 2
Cinnamon – 1 inch stick
Cloves – 2

Cilantro finely chopped – 1 tbsp
Method:
Heat the kadai and add oil.
Once the oil is hot, add mustard seeds.
As they start to splutter, add the chopped onions and ginger garlic paste.
Saute them till the raw smell goes.
Then add tomatoes, turmeric and salt. Cover and cook till the tomatoes become soft.
Meanwhile grind everything given under "to grind" by adding little water.
Now add the sambhar powder and the grinded masala.
Cook till the oil separates.
Now chop the vadai and add them to masala and add 2 cups of water.
Let it boil for 5-7 minutes.
And thats it, yummy vadacurry is ready :-) It goes very well with both idly and dosa.