I saw my blogger friends from the Blogging Marathon group trying bread jamun instead of the regular gulab jamun. No matter what Gulab Jamuns will there for all diwalis in our house hold. I followed the same tradition here in US too. But this time I wanted to try something different. Thought of making bread jamun and wanted to make it healthy. So I went with wheat bread and while mixing it I thinking how about baking instead of frying? I was super excited and baked and made this gulab jamuns.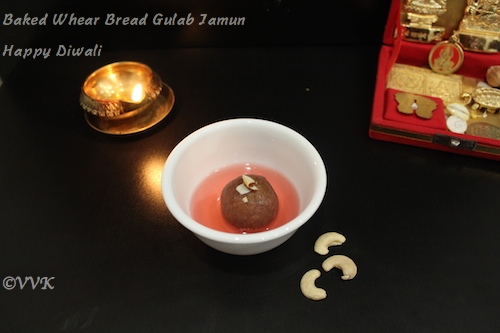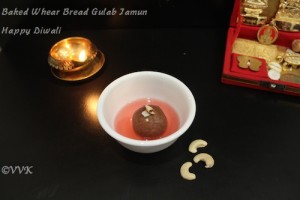 I was so surprised and amazed when I tasted it. Kiddo liked it very much and hubby too. I did taste slightly different and had the chewy texture because of the wheat bread but it had its own taste and altogether different from the regular jamuns. Err that's what I wanted right – different? Yet another healthy sweet option. For this entire recipe, I have used only 1 tbsp of oil just for greasing and brushing.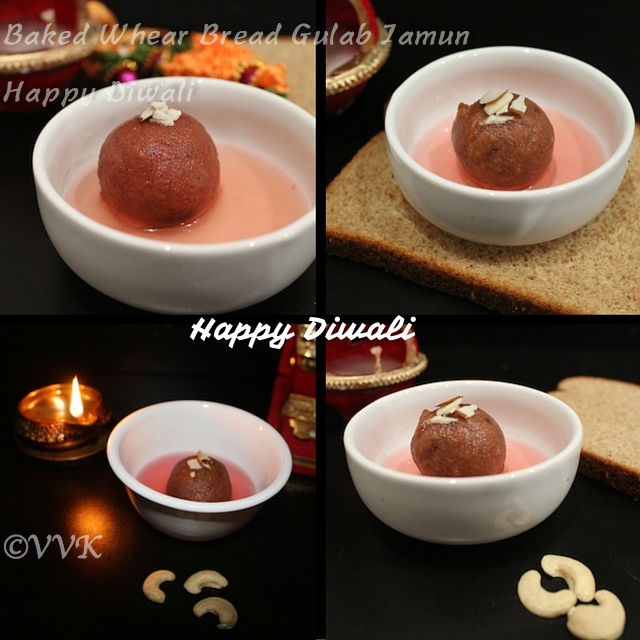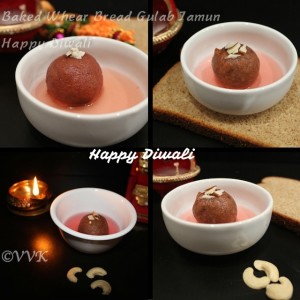 Without any further delay, here is the recipe,
Baked Wheat Bread Gulab Jamun
Ingredients:
Wheat Bread – 10 slices
Luke warm milk – 9 to 10 tbsps
Water – 1.5 cups
Sugar – 1/2 cup
Rose Syrup – 3 to 4 tbsps
Steps:
Remove the corners from the bread chop/crumble the bread into small pieces.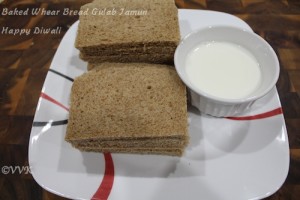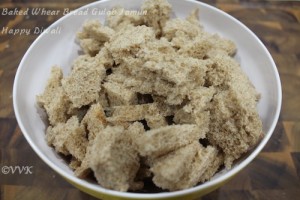 Now slowly add 1 tbsp of luke warm milk and mix well. Increment the addition of milk by 1 tbsp. Don't add milk at one single stretch.
Knead the bread and milk and form a dough.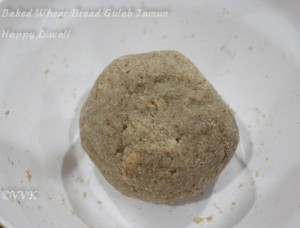 Now slowly make small balls from the dough. Meanwhile pre heat the oven to 350 degree F.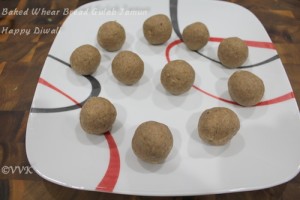 Cover the cookie tray with aluminum foil or parchment paper and grease it slightly.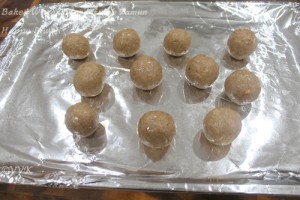 Now place the balls and brush little oil on top and bake it for 15 mts.
Flip them over and brush oil again and bake it for another 12 minutes. It shouldn't be too hard.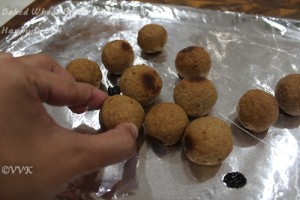 That's it the jamuns are ready.
While the baking is happening, we can make the syrup. Heat 1.5 cups of water and add the sugar and rose water.
Once the sugar dissolves turn off the heat and add the baked jamuns.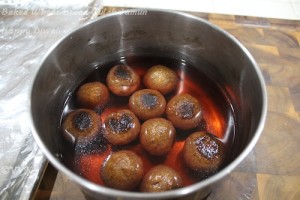 Let it soak for unto 4 to 5 hrs and that's it. Baked bread jamuns are ready.
Notes: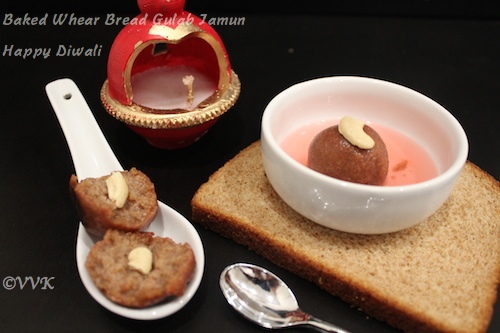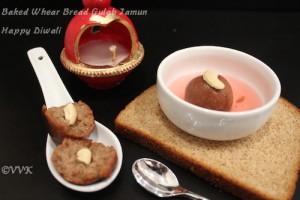 As I mentioned above increment the addition of milk by 1 tbsp. Don't add milk at one single stretch.
You can use elaichi and saffron while making the syrup.
Don't bake them more than 30 mts. We don't want it too hard.
The color doesn't change much. so don't wait for it turn brown or black.