Whowhooooo. My first blog award. Thanks a bunch to Tharani for passing inspiring blogger (???) award. Thanks for your kind words Tharani. (Wiping my tears).
Here are the rules:
Thank and link to the amazing person who nominated you.
Say seven facts about yourself.
List the rules and display the award.
Proudly display the award logo on your blog and follow the blogger who nominated you.
Nominate 15 other amazing blogs and let them know that they have been nominated.
Tharani you are an inspiring blogger. Your tamil tweets are very cute and your quilling work is amazing. I am already following you virtually. Err do you want me to be your Paparazzi?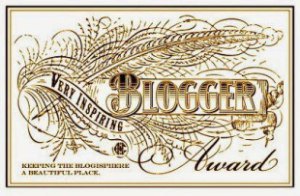 Here some facts about me.. :-)
I have spent 22 years in Periyakulam, but never been to Munnar which is just 3 hours from Periyakulam. Also I have never travelled much in India. Been to Bangalore, Mysore, couple of places in Kerala and Tirupathi. That's it, never went beyond that.
I am a barefoot car driver. I have this phobia that if I wear sandals or shoes, I would never be able to feel the accelerator or break.
Of all the dishes that I cook, I love my rasam the best. I am a big fan of my own rasam. ( ;-) ;-) )
I love (am crazy about would be apt) earrings. I don't care about any other jewelry. My love towards earrings drove me to learn how to make them and yes I make my own simple hanging type earrings.
I am a savory person. I won't get tempted by chocolates or cookies or any sweets. But give me a lays packet or any savory snacks, swishhhhhh… it will be all gone in few seconds. (Where, into my tummy)
I bite my nails including the cuticles. (Trying to stop that habit for my kiddo. I am using nail strengthener and all…lets see)
And I play veena and I am learning also.
So I am going to nominate these bloggers.
Shruthi Rao, the first blogger whom I started to follow. Her stories are amazing and very inspiring, especially Kanchenjunga and Interlude.
Shaifali Gupta. I know to read and write hindi but I don't have enough knowledge to appreciate the depth of her hindi poems (I wish I could) but her English ones are really great.
Two more food bloggers who inspire me with their microwave cooking, baking and fusion.
Vidya Sreenivasan who blogs at http://traditionallymodernfood.wordpress.com.
Malar Muthu who blogs at http://malarmuthu.wordpress.com
Thanks for reading and enjoy!!!