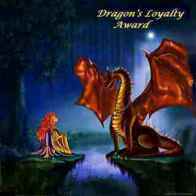 Aishwarya, from kitchen moments nominated me for this award. Thanks a lot yaar. Really enjoying this blogging and the WP family of friends and learning a lot too. Thanks all for your support.
My Nominees for Dragons Loyalty Award:
Man this is the tuf part.. Seriously all the bloggers who I follow inspire me :-)  As most of the bloggers I know already have this award, here are my 5 nominees but this doesn't mean that others didn't inspire me.  Nominating is always difficult
Sonal from simplyvegetarian777
Radhika from myTrystWithBaking
Nimmi from adorable life
Chitra from drchdietfood
Deepika from tastefortonge
Rules for Participating –
Display the award on your blog. Done
Show your gratitude and link back to the person who nominates you with the award. Done
Nominate any 4 of your favorite deserving "bloggers who positively and creatively inspire others in the blogosphere". Done
 Link the nominees in your post and let them know they have been awarded. (Will be doing)
 Write 10 interesting things about yourself.
Here it is
I love music. Love these apps saavn/Raga/Pandora now startmusiq and Gaana. One or the other will running in the background ALWAYS.
I listen to all south Indian language songs and Hindi and also carnatic.
If I am not listening music, I will be in soundcloud listening to RJ Balaji (Big FM) and ROFLing max
I am big fan of both the Thalas (Ajith & MSD)
I am a winter/rainy person. Love the holiday spirit here in US. The smell of pine cones, cinnamon-apple spice yumm. Equally enjoy the margazhi season in India
I love pedicures. (No nail for manicure so lets ignore it)
I am very very good at stressing my hubby for nothing.
I love history.
My favorite color is Yellow, especially the mustard yellow. I have heard enough yellow yellow dirty fellow ;-) But still yellow is my favorite.
And today I am leaving my sweet twenties behind and stepping into tangy thirties. (nahhh its gonna be sweet too) Yeah I am thirty today.
Thanks for the award again Aishwarya :-)