I always love quick and easy recipes, of course not compromising the taste though. So does everyone right? That's the big motivation behind the Prep Once and Serve Twice series that I did for IMC. I always think, if a recipe/dish can be used in multiple ways. Again the credit goes to my mom for this kind of thought process. I need to post couple of her trademark recipes. Stay tuned for those but today's recipe is going to be Prep once Serve Twice concept recipe or two in one recipe. By this time you might have guessed what it is from the recipe name – Adai batter Vadai.
This recipe title made me to analyze and get back to Tamil grammar again. There are three rhythm schemes in Tamil.
Monai – மோனை – Two words are in monai rhymes when their first characters are same
Edugai – எதுகை – Two words are in edugai rhymes when their second characters are same.
Iyaibu – இயைபு – Two words are in iyaibu rhyme when their last characters are same.
I should type this in Tamil to explain the rhythms here. அடை/வடை is an edugai and iyaibu combination. Tamil grammar always fascinates me.
So let's come back to the main business – the recipe. All you need is the Adai batter, handful of grated coconut and oil to fry. You don't need to shape this vadai in hand and also you don't need banana leaf or Ziploc. You can just pour the batter in the oil with a medium size spatula. The recipe is simple but how you can plan this recipes is the key here.
How I Plan:
Usually we don't add onions on festival days and try to avoid rice for dinner. Also we need to prepare vadai and kheer for these festival days. On weekdays this Adai batter vadai works well. I usually soak the dals overnight. So in the morning I grind them so that I can use it for vadai and my standard menu of these days will be any one of the variety rice (lemon or coconut or tamarind or BBB) with any raita without onion, poha kheer and vadai. My dinner prep work is also done in the morning which is a huge relief.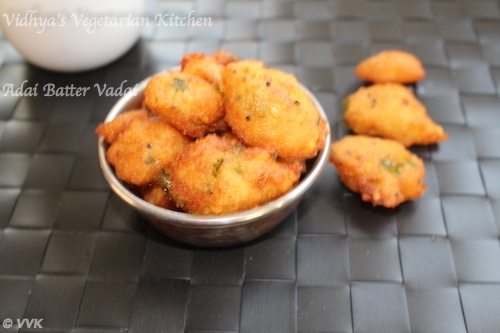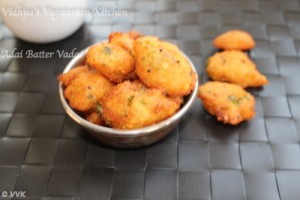 Here is the simple Adai batter recipe,
Adai batter – 1 cup (You can find the adai dosai recipe here)
Coconut – ¼ cup (optional, I usually add it in my adai batter itself)
Oil – for frying + 1 tsp
Mustard seeds – 1 tsp
Hing – 1 tsp
Curry leaves – 1 strand
Steps:
Heat the oil for frying
Meanwhile in a tadka pan or vessel add 1 tsp of oil. When the oil is hot add the mustard seeds and hing. As they start to splutter add it to the adai batter.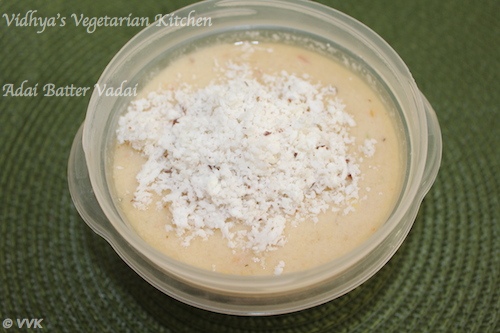 Add the grated coconut and chop the curry leaves roughly and add it.
Mix the batter well and your vadai batter is now ready.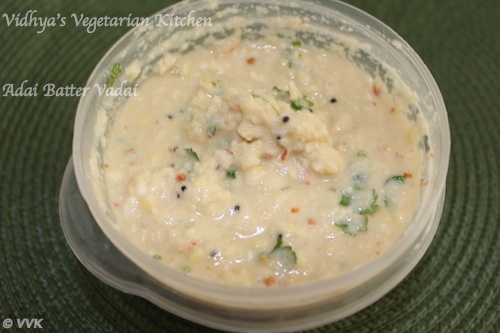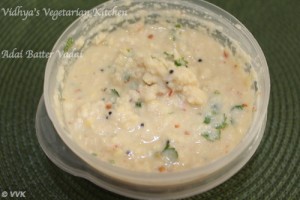 Once the oil is hot, take a medium spatula full of batter and pour slowly in the oil.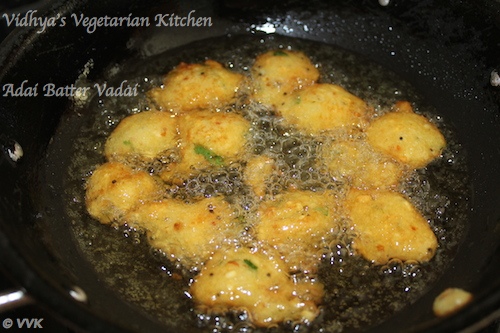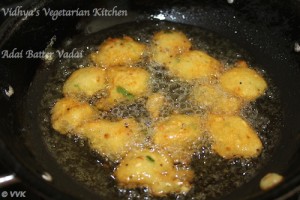 Let it get fried till it turns brown on both sides.
Take them out and place in the tissue paper to remove the excess oil.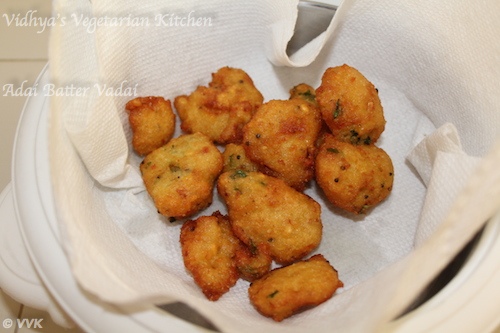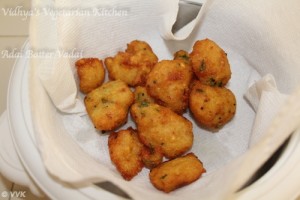 That's it, no onion vadai is ready.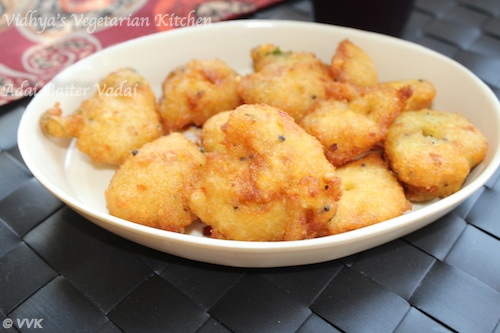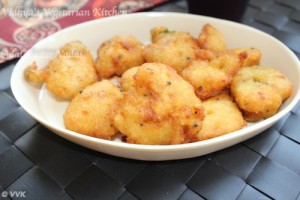 Notes:
You can add onions, saanf/big jeera for more flavor.
If the batter is sour, you can add little bit of rice flour and sooji and follow the same process.
Coconut is completely optional. I usually add it to my adai batter. If you add it to your adai batter, you can skip it here.