Disclaimer: My self interest in learning about basics and traditions of Thai cuisine motivated me to explore these ingredients. I relied a lot upon on internet and wiki and I have provided all the references here and do not claim these are 100% correct. I would love to get your feedback and if you have any book references please let me know.
I wrote similar disclaimer for my postpartum recipes. India is known for its culture and history and the traditional medicines but all these medicines are not written down at all or at least I have no clue where to find all the references. It's a sad truth.
So now coming back to Thai Ingredients,
Galangal
Kaffir Lime
Thai Basil and
Lemon Grass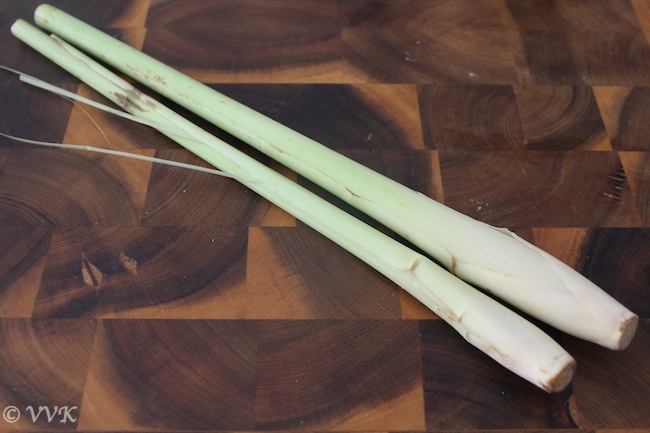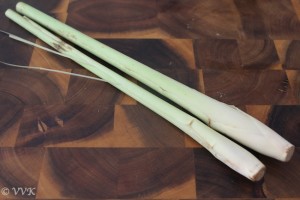 These are key ingredients used in Thai Curries. These are the signature elements that uniquely identify Thai cuisine.
Galangal: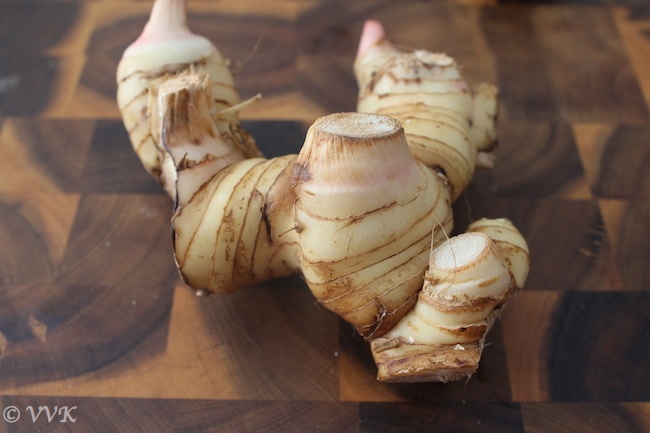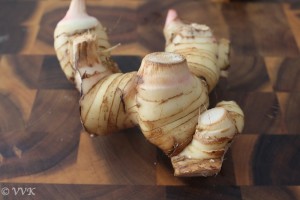 Only ½ to 1 inch piece is required for 2 cups of Thai curry but it is one of the key ingredient and this how it looks like. I thought it would smell like pink ginger but it was not closer to the regular ginger family at all. Here is the history of my research but only recently I got to buy these roots so here I am with the post.
In 2014, when I wrote about postpartum recipes I did a brief research on சித்தரத்தை / Chittarattai and Thippili. At that time I came across galangal used in the Thai curry. I shelved the research for later. In 2015 May, I again went back to these ingredients and read about them. Chittarattai does falls under galangal family and the way it is written in Tamil (pronounced as sittarathai) is also different.
It all started with this search keyword in Google – Galangal & Chittarattai
This is the Wikipedia link that I got, which further explained about Greater and Lesser Galangal.
https://en.wikipedia.org/wiki/Galangal
https://en.wikipedia.org/wiki/Alpinia_galanga – the greater galangal
https://en.wikipedia.org/wiki/Alpinia_officinarum – the lesser galangal
The interesting fact was both had its corresponding Tamil Wiki pages. And here they are
https://ta.wikipedia.org/wiki/ பேரரத்தை
https://ta.wikipedia.org/wiki/ சிற்றரத்தை
The Tamil naming convention makes total sense. But the confusion aroused again when I searched for the term "Chittarattai". I got Alpinia Galanga as one of the top hit. But isn't the perarathai? That result made me think what if I substitute Chittarattai for Thai curries? Basically all these falls under ginger family called Alpinia and according to the link below, there are 230 roots within that family and our key ingredient galangal falls under that one.
https://en.wikipedia.org/wiki/Alpinia
I didn't try substituting chittarattai for Thai galangal.
Kaffir Lime leaves: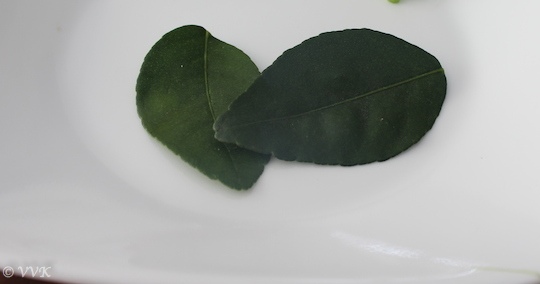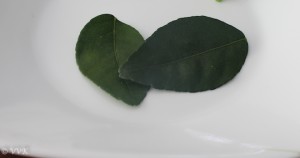 This reading was not as confusing like galangal. Kaffir limes fall under citrus family and the wiki picture made me think these are narthangai leaves. Amma used to make veppilai katti with those leaves and with narthangai we make gojju and we had a narthangai tree at our ammamas back yard too.
Thai Basil: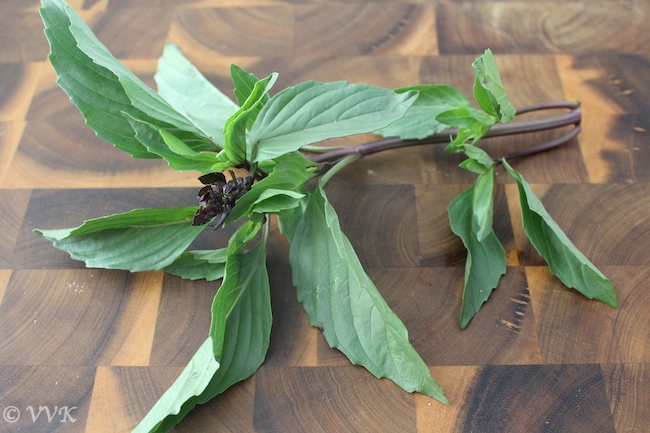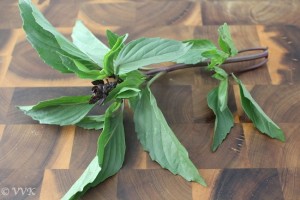 Every time when I taste Thai curry, I can relate the sweet fragrant taste with something else. When I saw the pictures of Thai Basil the first question that came in my mind was – Doesn't this look like Viboothi Pachilai or thinoothi pachilai? We had a huge patch of this pachilai at pannaipuram and this is used for curing skin allergies and pimples.
This small research helped me to discover this link about herbs and its name in Tamil. http://www.tamilheritage.org/thfcms/index.php/2010-01-03-14-32-58/2008-11-26-20-50-26/-sweet-basil
Here is the wiki link that clearly explains the difference between sweet basil and Thai basil. Sweet basil has green stems whereas Thai basil has the red ones.
https://en.wikipedia.org/wiki/Thai_basil
I am very good planner but do I execute it? It's a big no. I planned to confirm about kaffir lime leaves and Thai basil / thirunootri pachilai and also about galangal with the Ayurveda doctor from whom I get medicines for Vaandu during our India trip. But I completely forgot about these in the hectic schedule. Amma even made narthangai gojju, which I enjoyed happily but never went back to check the leaves and I didn't even click the pics for the gojju. This draft along with references was happily sleeping in my drive till last month.
I was able to find lemon grass and Thai basil in the Asian grocery stores. But I wasn't able to find Galangal and Kaffir Lime. Recently when I saw amazon carrying them, I was elated and ordered it right away. So finally the draft is out from its hibernation.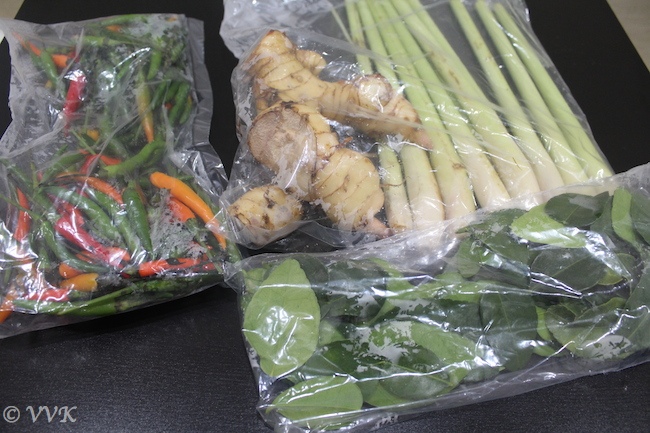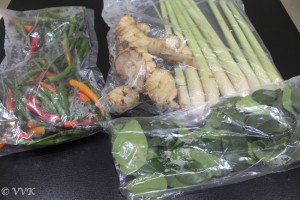 You will be seeing the three thai curries in the coming week. So what's going to be the first one?
Red, Green or Yellow? Keep guessing and stay tuned. :-)