I have mentioned about my love for kitchen gadgets on this blog many times, and I am repeating the same now :-).  Peeling and chopping vegetables are one among the most common task in the culinary world. Some vegetables are easy to handle, but some are not. Even with easy veggies, we need to be careful while chopping and peeling. Then imagine the veggies like raw banana which is sticky and ridge gourd which has a rough skin. We need to be extra careful with those veggies. I firmly believe that safety should be the priority in the kitchen. With that said I always look for kitchen gadgets that ensure safety and at the same time that saves time in the prep work.
Today I am going to share one such kitchen gadget – Tater Gator, a cute little vegetable gripper. So here is how the Tator Gator looks.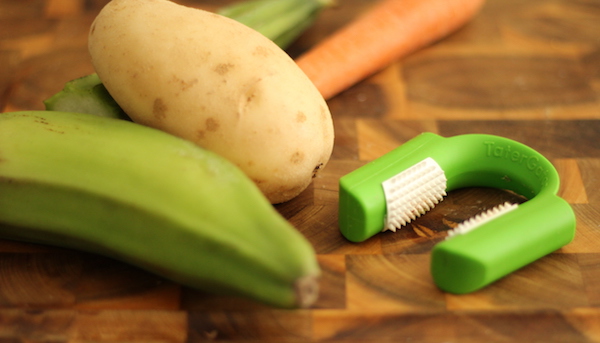 It is a vegetable gripper that slips easily into our thumb and index finger which in turn helps us to hold the slippery vegetables with ease. With a good grip, it becomes easy to peel the vegetables, and it protects the fingers from cuts and scrapes.
I know pictures and videos speak zillion words. So here is a short demonstration video.
So I far I have used the Tater Gator to peel the zucchini, potato, cucumber, plantain/raw banana, ridge gourd, bottle gourd. It works well with all the Indian vegetables too. What I liked about the product,
It's convenient, and it's one size that fits everyone. M tried it too.
Oh yeah, coming to that point, M has the latex allergy. But tator gator is latex, BPA, and PVC free. :-)
It doesn't consume space. Easy to store and easy to clean too. (Dishwasher safe)
So don't wait. Order this product right away. Grab it, grip it and peel . Avail the 20% off and also the free shipping!
This is a sponsored post but the opinions expressed here are my own.