As I mentioned in my yesterdays post this time I am planning to post only the pooranams or the fillings for kozhukattai. From last year we started the tradition of making play dough pillaiyar. We don't get it perfect but it's always fun making together. It's a great family activity for us. Kiddo is always worried about the mooshaka – Ganesha's vaahanam. Vaandu loves the mooshaka character very much. Here are our funny creations. I know it doesn't match the original pillaiyar but our humble attempt.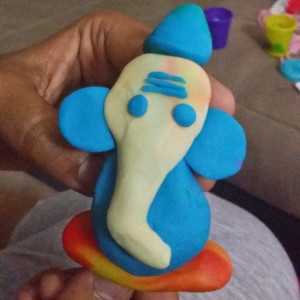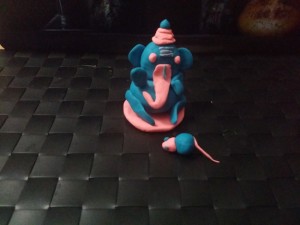 So now back to the recipe, this pooranam is also a sweet pooranam and it is very simple to make. You don't need to cook like for coconut filling. Just soak the black sesame seeds for sometime and dry roast it. Then grind it along with jaggery. That's it the pooranam is done. We call this Yellu Chiguli in kannada. For all the gowri vrathams this chiguli and Thambittu (rice/wheat flour dumpling) is a must. These are standard neividiyams in our custom.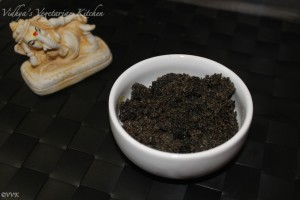 Here is the recipe,
Ingredients:
Black Sesame seeds – 1/4 cup
Powdered Jaggery – 3 tbsps (The ratio of sesame seeds to jaggery is 1 : 1/2 )
Water for soaking sesame seeds
Elaichi / Cardamom powder – 1/2 tsp or 1 whole elaichi
Steps:
Soak sesame seeds in water for 15 minutes.
Now squeeze the water and dry roast till they splutter. Do add any oil.
As they start to splutter turn off the heat and let it cool.
Now dry grind it along with jaggery and elaichi.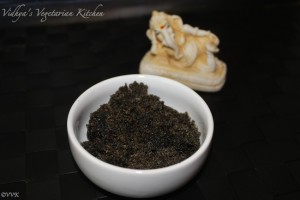 That's it the pooranam is ready. You can prepare this pooranam well ahead also and this stays unto 1 week when refridgerated. Now you can prepare the outer covering and fill this in and steam it.