Thanksgiving marks the beginning of holiday season and holiday season of course means parties and get-togethers. Last year we hosted a small holiday party at our home for our friends and their families. Be it a family get-together or an office party, hosting is a pretty involved task. Rearranging furniture, cleaning and decorating the house and the list goes on and oh yeah there is food too. Today I am going to share my ideas on how to create a perfect cheese board for the holiday party. Hmmm…. why cheese board? (Spoiler Alert: Don't miss the amazing contest to win a trip to Napa Valley, California! Details below.)
Snacks and drinks play a major role in the holiday parties and bite-sized snacks are easy to grab and they are mess free too. What's better than a cheese board with a perfectly paired wine? Host a stress free holiday party with this perfect cheese board with Stella ® cheeses.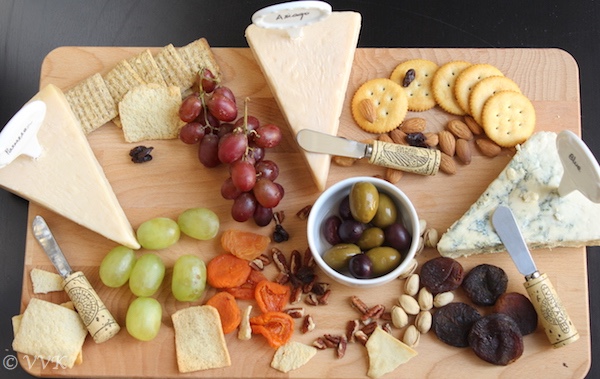 Stella ® has different varieties of cheese from shredded to crumbled and sharp to sweet and they are crafted with a rich heritage of Italian cheese making, dating back to 1923. They have Parmesan, asiago, blue, feta, fontina, gorgozola, provolone, ricotta, swiss and what not? Explore all the cheese varieties in their website. Oh yeah, if you are looking for rennet free as well as free of any other non-vegetarian enzymes, the following Stella® cheeses are your go to options:
Mozzarella
Provolone
Parmesan
Ricotta.
Cheese Board:
So today for my cheese board, I am using three cheeses which are party pleasers too, Blue cheese (rich, tangy and crumbly), Parmesan (Nutty and Buttery) and of course the Asiago (Buttery, Nutty and Smooth).
Thanks to my colleagues for teaching me the art of arranging the cheese board. Yes, I call it an art. The main thing about the cheese board is that it has to be chaotic and it should be filled with different accompaniments. There is no set rule or set ingredients or set measure. Just fill the board with seasonal fruits and available nuts and crackers. Easy right? I usually include some thing sweet, nutty, salty, and crunchy in my cheese board.
So this is what I used in my cheese board and below is the short video of the arranging the same.
Nuts (I used almonds, pecans and pistachios)
Crackers of your choice. I usually go with two to three varieties.
Grapes both green and red
Honey (optional, pairs with blue cheese)
Olives both green and brown
Dried fruits. (I used dried apricots and raisins, figs are great too)
Last but not the least the Stella cheeses.
Kid's Friendly Cracker and Cheese Sandwich:
I always make sure there are sufficient options for kids too. You can easily prepare this cracker and cheese sandwich from your cheese board. Just assemble a small cheese wedge and dried fruit in between the crackers and you are good to go. Look at these mini cheese & cracker sandwiches… Aren't they cute?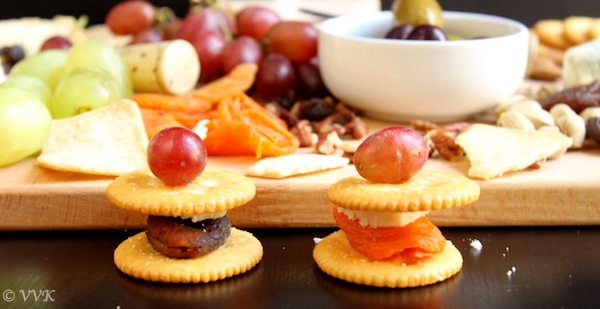 The other cool thing in the Stella cheese website is that they have the pairing wine combos for each and every cheese type. So before picking your wine, check out their website for options. Talking about wine, I want to share about Napa valley – the wine country. As I have mentioned in my previous posts, I have been to Napa valley multiple times and it is one of our favorite weekend getaway. You can enjoy the beautiful Napa sceneries in the River cruise leaving the traffic behind or tour the Napa valley vineyards in the wine train. Don't forget to visit the old faithful geyser of California in Calistoga which very close to Napa.
I can hear you asking why am I talking about Napa valley in the cheese board post. Because, wine and cheese are perfect pair and Stella® cheese is hosting a contest for a chance to win a trip to Napa Valley. Enter Stella's amazing contest to win a trip to Napa Valley, California! (Welcome folks)
Enjoy this holiday season and host a stress free party with this cheese snack board.