Last week, I shared a sneak peek of the Rotimatic machine. And here I am today with my honest Rotimatic review. As I have a lot to discuss about this kitchen robot, I am doing this review as a two-part series and here is the first one.
Disclosure: This is not a paid post. I received this product for review from Zimplistic, but the opinions and thoughts expressed here are my own.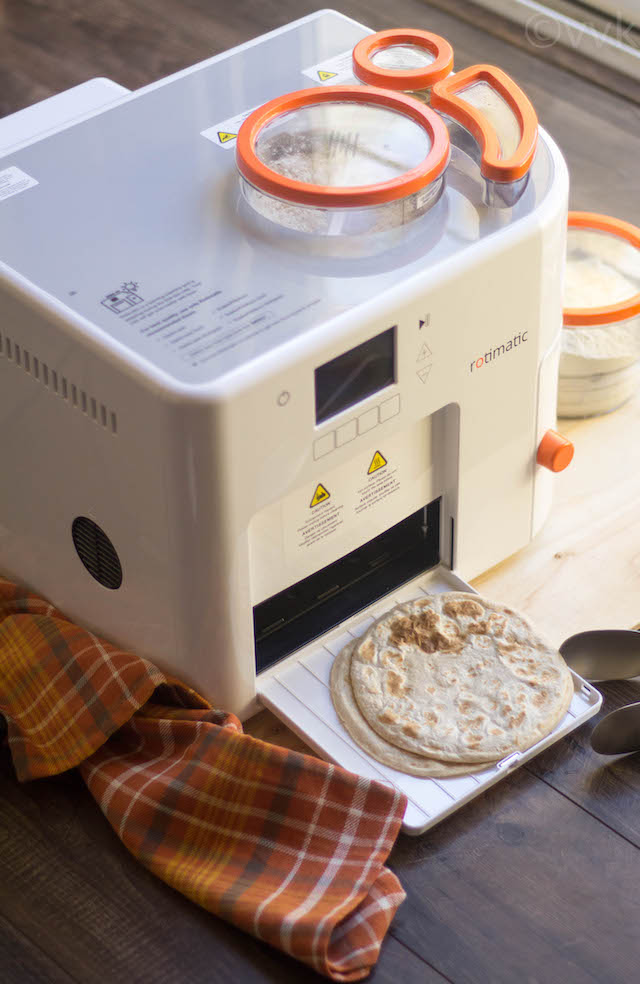 Before getting into the review, let me share some scenarios.
Scenario 1

: After a long tiring day, you come home, and your child is inviting you to play with him/her, or you need to help them with the homework. You realize you have to knead the dough for roti and prepare. You are stuck between kids play time and serving fresh food to your family.

Scenario 2

: After a long tiring day at work, you come home and realize you have just two hours before your onsite call. And now you are stuck between cooking, relaxing and family time.

Scenario 3

: Juggling between your newborn and the first child and trying to balance the work-life schedule? Or are you juggling between a new pup and family like me?

Scenario 4

: You are away from your family living with your friends. You cook delicious curries and gravies but outsource roti?

Scenario 5

: You have prepared the food but too tired to knead the dough and make rotis.

Scenario 6

: You don't enjoy the process of making roti, but you love to relish fresh rotis.

Scenario 7

: You are setting up the dorm kitchen for your freshman's and looking for all the kitchen essentials that make their life and cooking easy.
Can you relate to any of the above scenarios? or let me put it this way. Are you looking for kitchen gadgets that make your life easy and healthy? Then you are the right place, and Rotimatic is just for you. I have explained what Rotimatic is on my reveal post and now let me share what it can do for you and how easy it is to make rotis and pooris and pizzas.
The Process/Art of Making Roti:
We all know roti is Indian flatbread and it is one of the staple foods of India. All we need is some wheat flour and water to make the roti, oh yeah the oil too but I know many of us to skip that. For a recipe that only calls for two ingredients, why do we need a robot? Roti making is an art. You need to knead the dough, make balls and roll it and then cook it on hot tawa. Like bread baking, it can be therapy, but imagine doing this every day especially on hot summer days.
Most of the Indian households prepare rotis on a daily basis and as I mentioned it is not an easy task, especially when you have to make rotis for a larger family. Thanks to Ms. Pranoti Nagarkar Israni and her husband Rishi Israni for inventing this great roti robot that makes roti without any effort.
Rotimatic Setup:
There is no hard setup and fixing different parts. All you have to do is set the kneading part and the all the containers. That's it. You can good to go with the Rotimatic. Guess what, you have an excellent online source for this setup, and it is effortless. The other main thing is connecting the Rotimatic with your Wi-Fi. Make sure you install the Rotimatic app on your mobile and connect your machine. You can access the Rotimatic support system via the app and also the update automatically.
How Rotimatic makes Roti?
Fill the flour, oil, and water in the appropriate container. Select Roti option from the screen, the quantity, the thickness, the roast level and the oil amount. And that's it. You are done.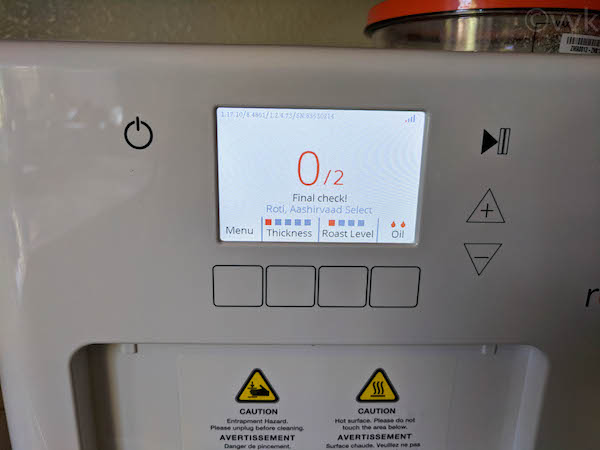 After the 6 minutes, be ready to grab the rotis. It takes only 90 seconds for the Rotimatic to make perfect circular puffed up rotis. I am not kidding. That's all you need to do. No additional steps, no hidden products, just an automatic roti maker.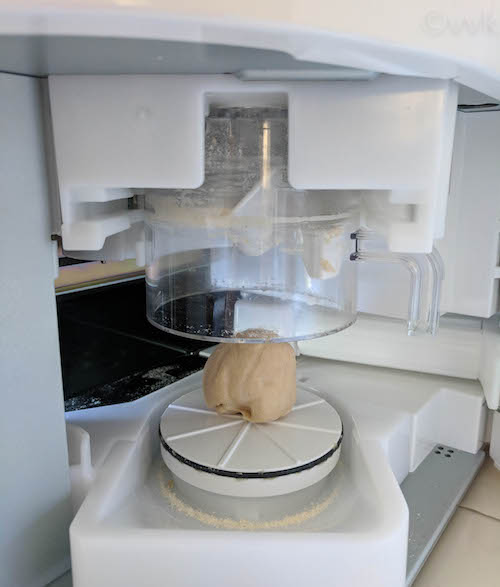 Fresh homemade rotis are ready within 10 minutes.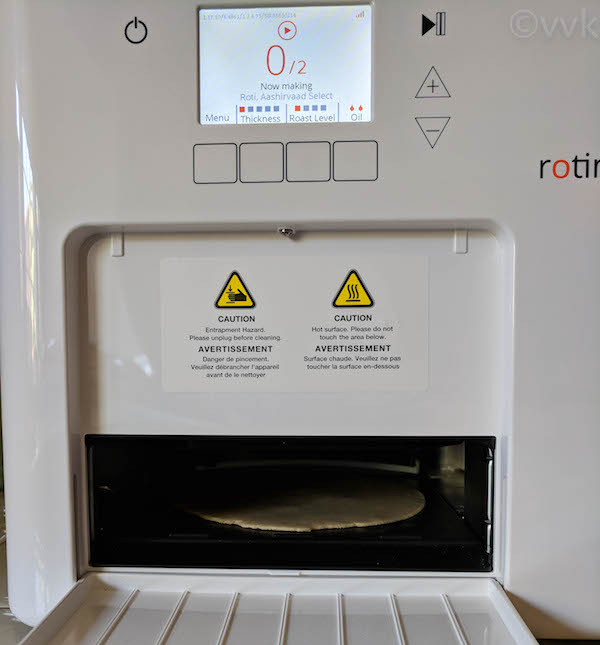 Taste of the Rotimatic Rotis:
It is really great, and it is soft. Not so hard and not so crispy. It is entirely cooked including the edges. It doesn't puff up like phulkas, but hey how can we compare and an AI-driven robot with homemade rotis? But this AI drive rotis are far better than frozen ones and store-bought ones where we don't know what ingredients went inside.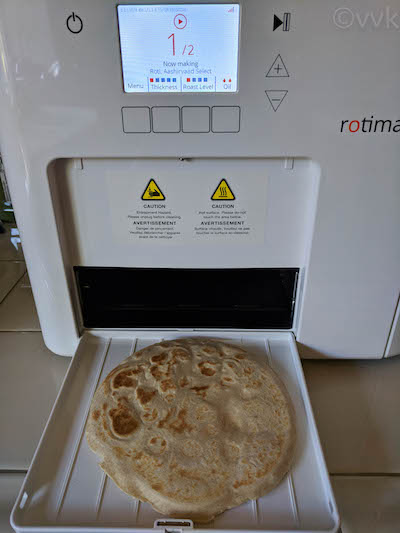 Does it stay soft for a longer time?
Yes, it does. I tried applying some ghee on top of the roti, and I worked without ghee as well. It stayed soft for up to 15 hours. Just to test, I made the rotis in the evening around 6:30 PM and packed the same for lunch. Even without reheating it stayed soft till 11:30 AM the next day.
Does Rotimatic make only Rotis?
No, you can make pooris (you need to fry separately), pizza bases and tortillas too. And the possibilities are endless with new software updates. With this one hardware, you can create many exciting and unique recipes that you were procrastinating before as kneading or preparing dough was time-consuming. I have quite a few recipe ideas lined up. Stay tuned for my Rotimatic series.
What Kind of Wheat Flour to Use?
As of now, the system supports these wheat flours below. I use Ashirvad Multi-select.
Aashirvaad

Aashirvaad Select

Aashirvaad Multi-G

Pillsbury/Sujata

Pillsbury/Sujata Multi-G

Pillsbury/Sujata Gold

Elephant Gold Chakki

Grewal Chakki

Al Baker Chapati

Al Baker Chakki Gold

Al Baker Chakki Fresh
Rotimatic adds new flour types through regular software upgrades and should you want to experiment with new flours you call also let them know via the Rotimatic app support! I also got news that they are working on the gluten-free flour update launching soon. I can't wait for it.
Rotimatic Cleaning:
Rotimatic comes along with cleaning brushes. You don't need to clean the flour containers every time. But I would recommend washing at least once a weak with mild soap. Ensure it is scorched before adding the ingredients. You do need to clean the kneading part every time and dust the flour area/base with the brushes. The parts are dishwasher safe as well.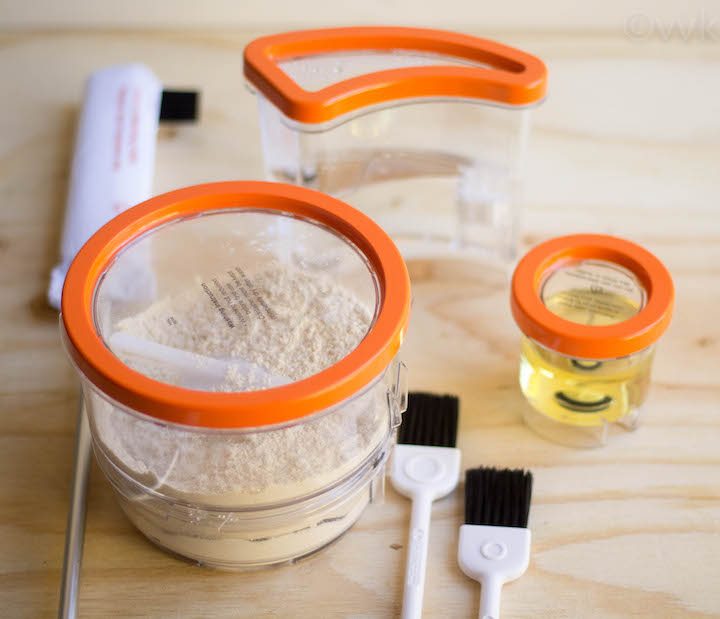 Size:
Like wet grinders, you need a dedicated space for Rotimatic. It is quite heavy, and you need an area which is 4 inches away from other electronic gadgets.
Avail the discount:
I would like to thank Rotimatic for providing this coupon exclusively for VVK readers. Now you can avail $50 and free express shipping promotion with the coupon code – ROTIMATIC50 and you can purchase the Rotimatic here.
I will update my widgets bar with the coupon code as well. :-)
Coming up in Part 2:
I know I need to talk about the price point and power consumption and areas for improvement. But let me keep that for the second part. In the meantime, you are also able to read reviews from Rotimatic customers on their experiences here!
If you have any further questions about Rotimatic or if you feel that I have missed any point, kindly let me know via comments below. You can also contact me via my social media and here are details.
Disclosure: I received this product for review from Zimplistic, but the opinions and thoughts expressed here are my own.