Today I am going to share how to clean and season your cast iron pans, skillets, griddle after every single use with a detailed video.
Pans are kitchen essentials. Most people choose nonstick pans for the ease of usage and maintenance. But many fellow cooking enthusiasts, who use nonstick vessels crib about having to change them often to avoid health risks. I switched to using cast iron pans and skillets a couple of years ago, and for all stove-top cooking, I use my cast iron pans and skillets. I do have a few non-stick baking trays. :-)
Most of my friends who wanted to switch hesitated as they feared the maintenance of a cast iron pan. I don't deny there's a little extra effort involved for seasoning the pan, but it definitely outweighs the nonstick pan. The more you use the cast iron, the easier to cook with it and with proper maintenance, your cast iron pan becomes a life long asset.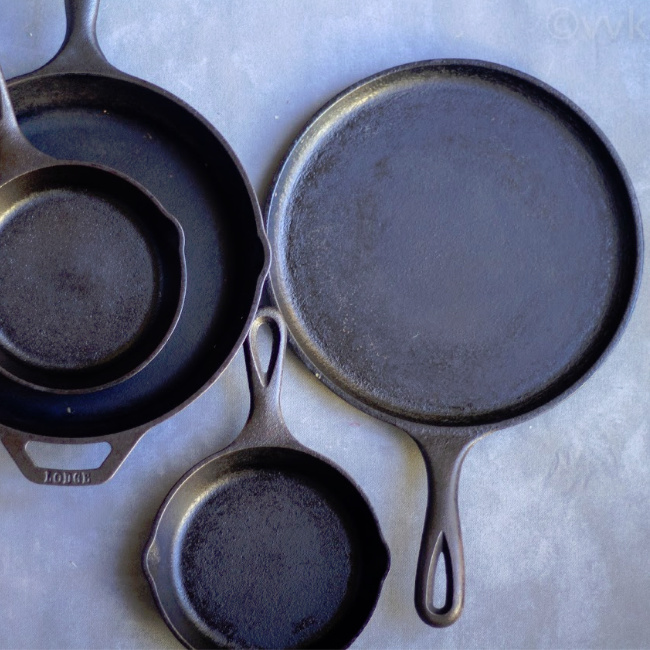 So here is my little message of how I use, season and maintain my cast iron pans. With simple steps and readily available materials, you can master it too and enjoy using a cast iron pan.
This is not a sponsored post, and all the items, including the cleaning products that I use, are the ones I use personally, and I have included the links as well.
How I Clean & Season Cast Iron Pans:
Run the tap water over the cooled cast iron pan
Scrape the residues using a scraper.
You can use either Bon Ami- the powder cleanser or Mrs. Meyer's dish soap (Both products are biodegradable) to scrub for a deeper clean.
Do not soak your cast iron pan. After use, cool down and wash it soon after. Soaking with water forms rust on the pan.
Wipe it dry using a paper towel or microfiber cloth.
Heat it on a medium flame for a minute and when it is hot enough add a drop of oil and spread it using a kitchen towel or a microfiber cloth and set it aside for your next use.
If you have any questions, please leave your comment below.