It's time for guest post. This month we have Swapna from Swapna's kitchen and she sent an apt recipe for this festive season – Godhumai Payasam or Broken Wheat Kheer. I can't thank her enough for this wonderful recipe. When I moved my blog to WP, I started to follow quite a few (errr a lot) bloggers and Swapna's blog is one among them. I love her blog and she has very versatile recipes. In fact her recent recipe, Choco chip muffins is in my to-do list.
Thanks to this blogging world, for introducing such a wonderful friend. We recently started conversing via FB too and she is such down to earth person. When I asked for guest post, she readily agreed and sent this wonderful recipe. So without any further ado, here is the guest post from Swapna. (Thanks for the kind words Swapna.)
Here is her website and FB page,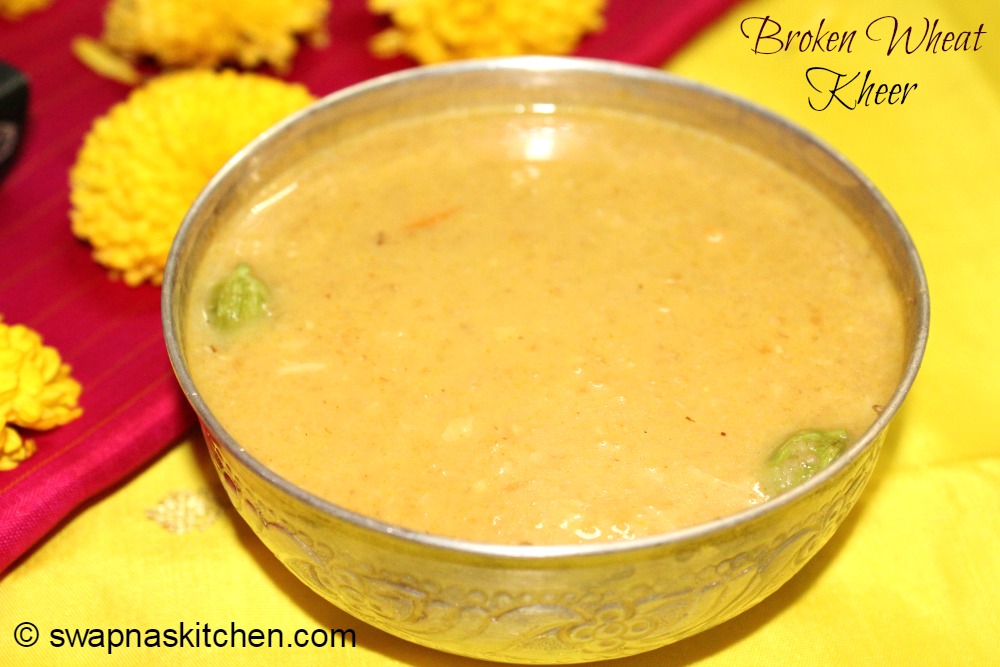 Hi Friends,
Vidhya and I became friends through WP and that too very recently. She is such a talented blogger, an active working woman who is managing both her family and her workplace so happily. I called her for the first time for I had some questions regarding blog migration. She was the one who clearly explained with both positive and negative issues that might happen after the migration. Also she referred me to her friend, who successfully completed the blog migration. I really can't thank her enough for the help she did for me. I'm really so happy to post a recipe on her space where one could find so many healthy and delicious recipes. All the very best my dear friend and Happy Blogging!
Broken wheat payasam or Godhumai payasam is a healthy payasam prepared using broken wheat and jaggery.One could make so many healthy sweet recipes using jaggery as a sweetening agent.In kerala people use jaggery for almost all payasam recipes but here in Tamilnadu we use more of white sugar.I have also added some ghee roasted nuts and raisins.If you prefer making a healthy version then just omit the ghee and add the grated coconut at the last step.The healthy version would be so perfect for dieters and diabetics.This payasam recipe requires more water for it becomes so thick on cooling.Also make sure to add the jaggery syrup only after the broken wheat is completely cooked .It is also a popular recipe in Kerala Sadya.Do make this healthy payasam and indulge without any guilt :)
Godhumai Payasam | Broken Wheat Kheer - Guest Post From Swapna
Servings: 3
Difficulty: easy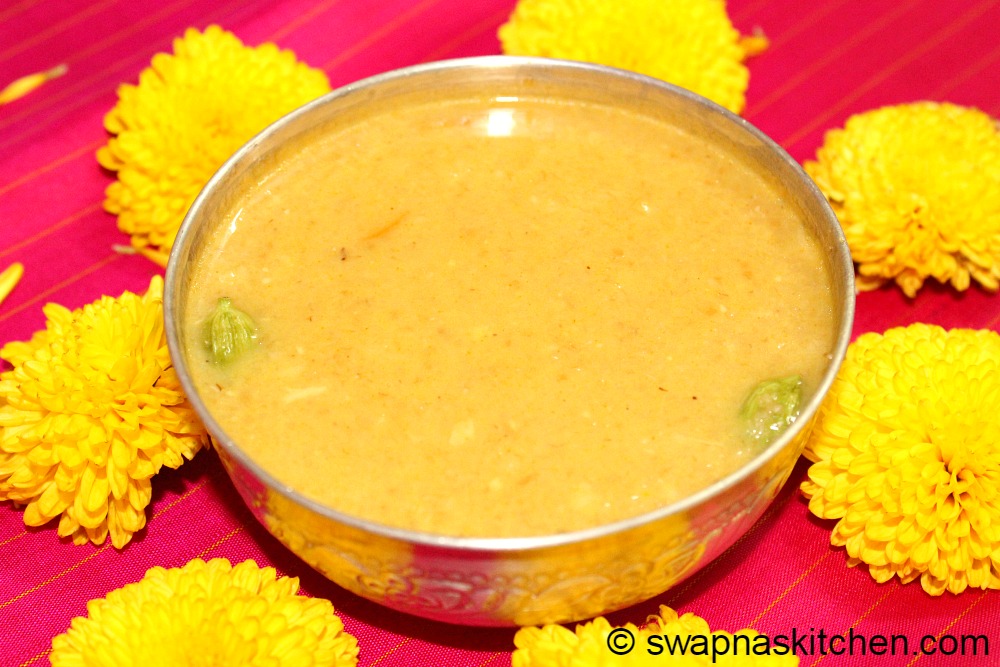 INGREDIENTS
1/2 cup broken wheat
1 cup jaggery + 1/4 cup water (to make jaggery syrup)
1 cup milk
2 cups water
2 tbsp grated coconut
6 cashews
6 rasisins
2 cardamoms
2 tbsp ghee + 1 tsp for roasting wheat
METHOD
Roast the broken wheat with a tsp of ghee for 5 mins in low flame.

Prepare the jaggery syrup by boiling jaggery with 1/4 water in medium flame for 7 mins or until they are completely dissolved

Add milk,water and let it boil.When it starts to boil simmer the flame to low and cook for 15 min.

Roast the nuts,raisins and cardamom in ghee for 2 mins in low flame.

Now strain the jaggery syrup ,add it to the cooked broken wheat .and cook for just 2 mins in low flame.Switch off the flame now.

Add the roasted nuts,raisins,grated coconut and mix well.

Serve the payasam warm .