Summer is here and let's get our hands dirty with gardening. Join my gardening series with this post. Today I am going to share about gardening raised beds and why I went with raised beds.
I posted about my gardening love in 2017, and after that, I couldn't post much. Like a recipe, I want to be sure about my gardening practices as well before posting it here. So I took my time to start the series. Finally, I am happy to start the series with raised beds. Here is a picture of my raised bed that I took on a bright sunny day.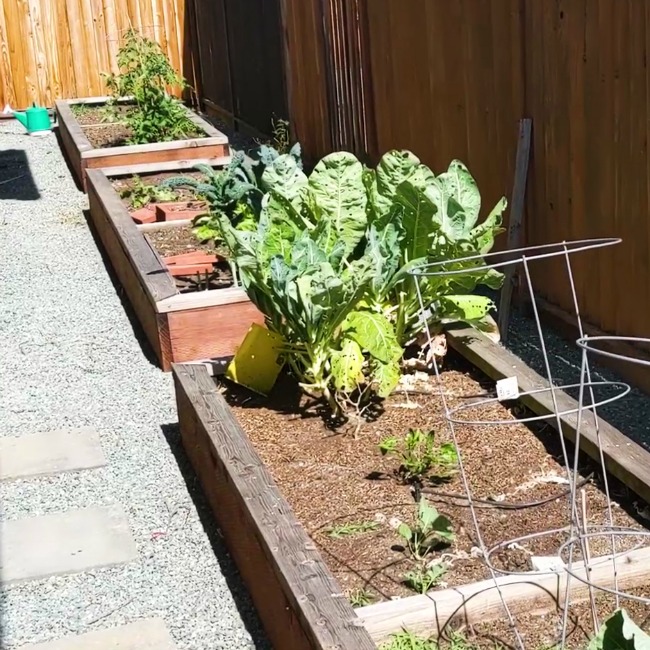 What are Gardening Raised Beds?
A raised bed is nothing but a planting bed that sits on top of the existing soil. Usually, the soil is in a contained unit. You can see wood, bricks, or concrete used for building the contained unit or the raised bed. Ours is all wooden.
Why do we need Gardening Raised Beds?
Internet is flooded with the benefits of raised beds. But let me explain why we went with raised beds instead of planting vegetables directly on the ground or on the pots and potters.
The first and foremost reason for us to move to raised beds was snails and snakes. (Yes, you read it right) I have snails in my backyard, and it affects my plants. As I live close to the Bay, we do see garden snakes once in a while. If I plant all the vegetables on the ground directly, the maintenance will become difficult for me, but it will become easy for the snails and other pests to thrive. Weeding will be a problem too. So to maintain non-wild and a clean garden, we chose raised beds. The walls of the raised beds serve as a barrier to pests. As you can see in the video, we filled the surrounding areas with small rocks, which keep the weeds and pests away.
Easy maintenance for sure. You can control the creepers within the box. It is hard to grow climbers and creepers in pots. So a raised bed would be a perfect fit.
It provides excellent drainage and also prevents the erosion of good garden soil during the rainy season.
My existing garden soil was not fertile; it was hard for me to add the manure and enrich the soil. So after building the raised beds, we filled it with organic soil, compost, and fertilizer, making the bed perfect for vegetables.
Last but not least, raised beds adds value to the house.
My Raised bed Layout:
As you can see from the video, I converted my side yard as my vegetable garden and placed all the raised beds there. A part of our backyard still has pots and potters where I have tulsi, curry leaves, and other herbs. I have three raised beds which are 12X3 feet and one raised bed, which is 12X4 feet.
Price:
Of course, the price. A wooden gardening bed is quite expensive, and it requires manual labor as well. Initially, I got this small raised bed from Amazon to test it out. When I liked it, we decided to build big ones. We want to do it right and making raised beds is not an easy task, so we hired our gardener to make the gardening beds for us.
The raised bed building process:
Even though we did not construct it; I want to share the process. You first need to remove the lawn/grass and weeds thoroughly from the area. Then place the built bed. (Our gardener constructed the raised beds based on our requirement on site. He did not use the prebuilt ones) Cover the soil inside the bed with weed cloth or barrier. This cloth prevents the weed, but it allows the water to drain and roots to breathe. Then fill it with good organic soil, manure. I would also recommend installing the drip irrigation system at the same time.
The lifetime of a Raised Bed:
We built this raised beds 1.5 years ago and so far, so good. I did not face any issues. Using good quality wood helps a lot. If you are wondering that if you could move the raised bed after placing them, the answer is YES. I have done that but of course with the help of the gardener.
Few Pointers:
A couple of pointers I would like to share here:
Use good quality wood but make sure they are untreated. I would recommend untreated wood for organic gardening.
Make sure you use a weed protector.
Use good quality organic soil and also add manures, chicken manures are tremendous, and they enrich the soil.
Depending upon your backyard layout, you can customize the raised bed sizes. Make sure you place them where you get ample sunlight.
There is nothing more than rewarding than growing your food and cooking the same. I hope this article was helpful. Let me know if you have any questions or comments. Also, follow me on Instagram or join my Facebook Group for more gardening and recipe updates.