This is my 300th post. I would have repeated this many times in my blog – It took me 5 years to complete 100 posts but less than 2 years to complete another 200. My blog underwent lot of changes in these two years. Blogger to WP hosted site and then to Self hosted site. I participated in blogging marathons and monthly marathons too and couple other challenges. The hard work didn't go in vain, my blog was ranked 9 by Indiblogger. Thanks for all your support and encouragement.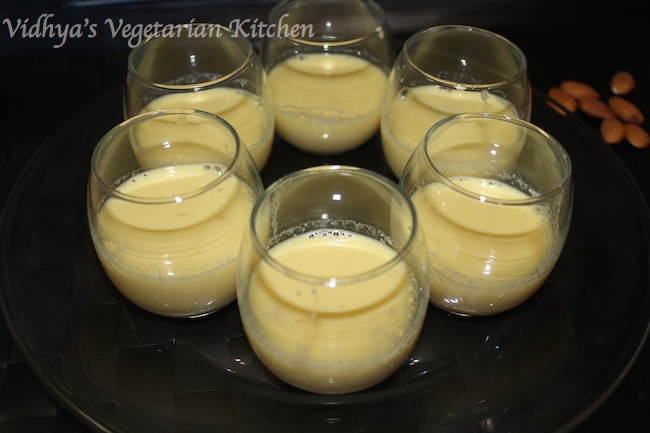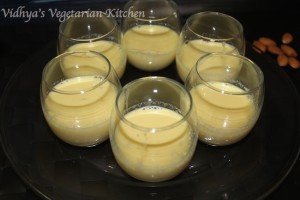 Thought of posting a sweet recipe for my 300th post. So tried my hubby's favorite recipe and here it is. Badam Kheer or Badam milk. It's a simple recipe and it can be done quickly and its perfect for doing on festival day mornings also. The only thing is you need to remember to soak almonds. I prefer soaking almonds overnight. Its needs to soaked so that you can peel the skin easily. So planning is required for this dish. With few simple ingredients you can make rich and yummy kheer.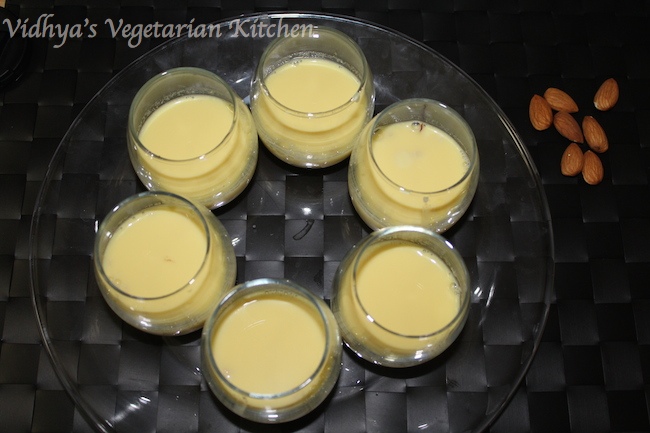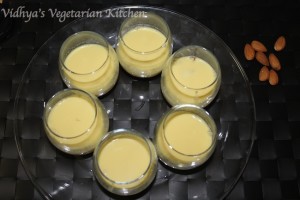 Ingredients:
Milk – 3 cups + 2 tbsps (I used 2% milk)
Almonds – 25
Yellow food color –  2 drops (Optional, if you want to skip this include more saffron)
Safforn – a pinch
Sugar – ¾ cup (adjust according to your taste, For 1 cup of milk I took ¼ cup of sugar)
Water to soak almonds
Cardamom powder – ¼
Steps:
Soak the almonds overnight and peel the skin.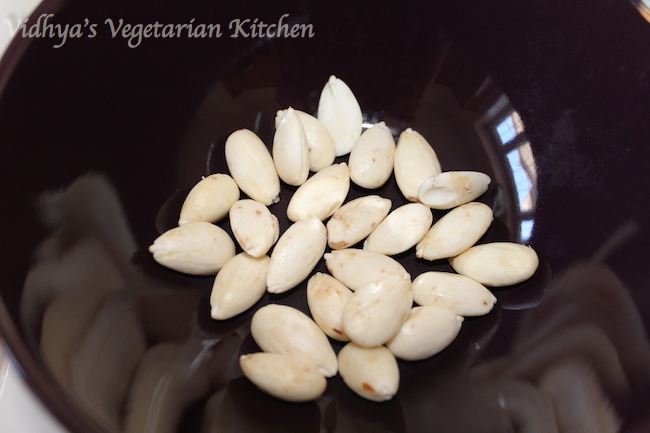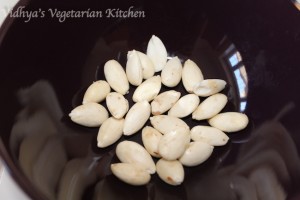 Start to simmer the milk.
Meanwhile grind the peeled almonds into a smooth paste by adding 2 tbsps of milk.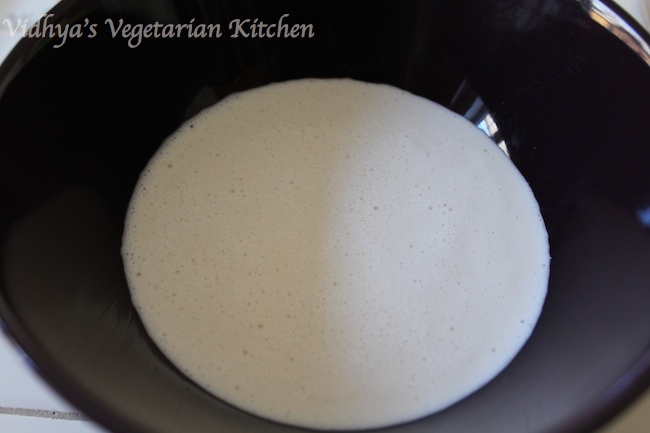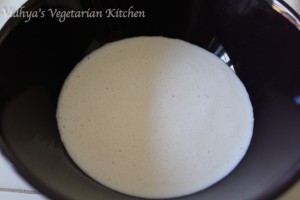 When the milk is about to boil add the almond paste, elaichi powder       and sugar.
Mix well and let it simmer for couple of minutes.
Add the saffron and the food color (if using) and simmer for couple more minutes.
Turn off the heat and let it cool.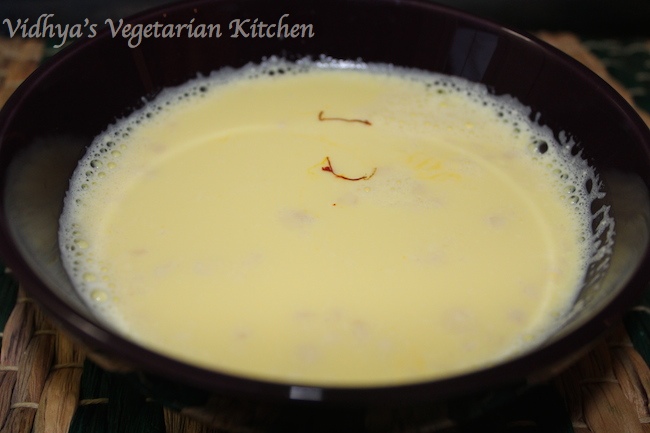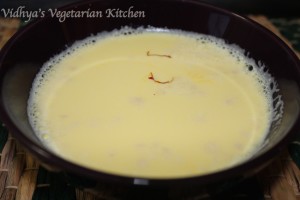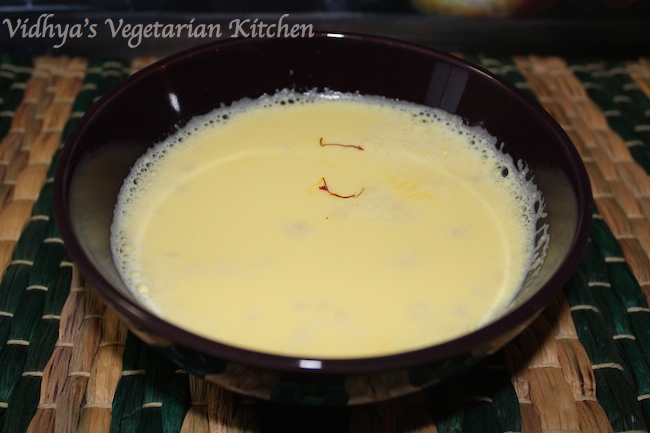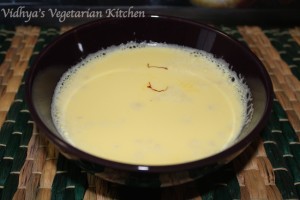 Thats it yummy badam kheer is ready. I like to serve it chilled. So after it gets cool I refrigerate them. You can serve in your preferred way.
Notes:
You can soak the saffron in luke warm water or milk and add them. But I directly add them to milk.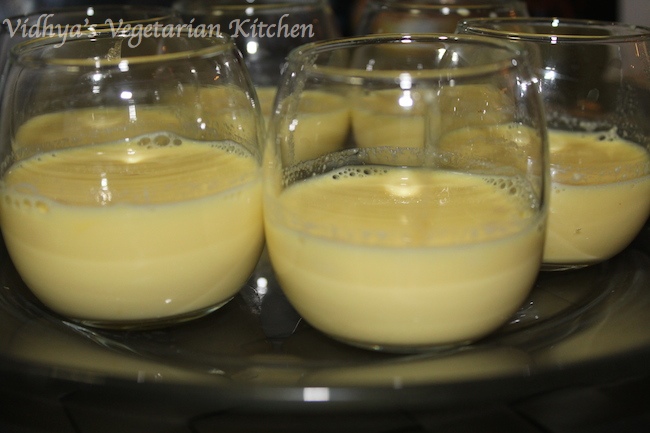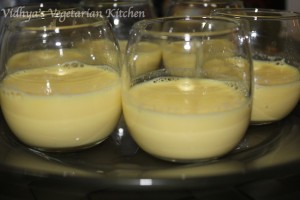 PS: As I am travelling I am yet to read other blog posts and comment. Hope to get back to all posts in august. :-)