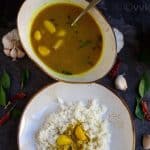 Print Recipe
Poondu Kuzhambu | South Indian Style Garlic Stew / Gravy
Lipsmacking poondu kuzhambu or the South Indian style garlic stew/gravy made without sambar powder. A perfect gravy to relish along with hot steamed rice.
Prep-Work:
Peel the garlic cloves. We need 25 to 30 cloves, and peeling is a time-consuming task. As I mentioned in my gifts under $10 post, I used my silicone trivet for peeling it.

Also, grind the coriander powder, red chili powder, dried red chilies, and coconut by adding 1/2 cup of water into a smooth paste.

Mix 2 tsps of tamarind paste in 1 cup of water and set it aside.
Poondu Kuzhambu Recipe
Heat a pan and add the sesame oil. When the oil is hot, add the mustard seeds, fenugreek seeds, asafoetida, and curry leaves.

Let the mustard seeds sputter. The oil will become frothy, and that's normal if you are using sesame oil.

Now add the garlic and the turmeric powder.

Mix well and cook for 3 to 4 minutes over medium-low heat or until the garlic turns light brown.

Then add the tamarind water (tamarind paste mixed with water) and salt. Simmer it for 5 minutes or until the raw smell of the tamarind goes off.

At this stage, add the ground paste and jaggery. Rinse the mixer jar with 1 cup of water and add it as well. Mix well.

Reduce the heat to medium-low and simmer it for 10 to 12 minutes.

Now check the consistency of the kuzhambu. If you prefer thin consistency, then simmer the kuzhambu for three more minutes and turn off the heat.

If you prefer slightly thick consistency, mix 1/2 tsp of rice flour with 2 tbsp of water and make a slurry.

Now add this slurry to the kuzhambu and simmer again for 5 minutes.

That's it. Poondu kuzhambu is ready. Serve hot with rice.
I did not add any onions or shallots or other vegetables. I wanted to bring out the garlic flavor exclusively. But you can add 1/2 cup of chopped onion or five shallots and also 1/2 of vegetables like drumstick, brinjal or okra.
The garlic clove size varies. So depending upon that, adjust the amount. If you have small cloves, you can add up to 30 to 35 cloves.
While tempering, you can also add 1 tsp of toor or split pigeon peas. It adds a sweet flavor.
I highly recommend sesame oil or gingelly oil for this recipe but if you can't source it you can use other oil as well.
Spice & Salt: Always adjust the salt and seasonings according to your taste. I add two dried red chilies and 1/2 tsp of red chili powder. But you can increase this measure to 3 or 4 dried red chilies depending upon the variety and 1 tsp of red chili powder. For a bring fiery red gravy, try Kashmiri red chili powder, or Kashmiri dried red chili variety. I used regular red chili powder and Byadgi variety of chilies for this recipe.
Tamarind: I used homemade tamarind paste. As I mentioned in vathal kuzhambu post, adjust the tamarind depending upon the variety. The age of the tamarind plays a significant role. Instead of tamarind paste, you can use tamarind pods. In that case, soak a small gooseberry sized tamarind in 1 cup of water for at least 30 minutes and extract the juice.
You can skip the fresh ground masala and 1.5 tbsp of sambar powder. It will be more like poondu puli kuzhambu/vathal kuzhambu.
Simmer in medium-low heat for a long time helps to intensify the flavor. Also, as the kuzhambu cools down, it thickens slightly.
Calories:
126
kcal
|
Carbohydrates:
11
g
|
Protein:
2
g
|
Fat:
9
g
|
Saturated Fat:
3
g
|
Sodium:
948
mg
|
Potassium:
159
mg
|
Fiber:
2
g
|
Sugar:
4
g
|
Vitamin A:
306
IU
|
Vitamin C:
71
mg
|
Calcium:
43
mg
|
Iron:
1
mg