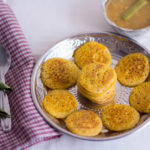 Print Recipe
Carrot Coin Dosai
Kid's friendly carrot flavored coin dosa/uttapam. A Perfect kids friendly lunch box.
Prep - Work
Wash the carrots, peel the skin and grate them.

Soak the red chilies in water until you grate the carrot or for about 5 to 10 minutes.

Chop the cilantro and set aside.
Preparing the Carrot Paste
Preparing the tempering
Heat the tadka vessel and add the oil.

Once the oil is hot add the mustard seeds, urad dal, hing and channa dal.

As it starts to splutter, turn off the heat.
Preparing the Carrot Dosa Batter and the Coin Dosa
Add the ground paste, salt, and the tempering to two cups of dosa batter and mix well.

Make sure the carrot paste is well incorporated.

Now heat the tawa or the griddle and drop about 1 tbsp of dosa batter on the tawa. I usually prepare 6 to 7 at a time.

Spread a little bit of oil around the edges and let it cook for the minute.

Then flip the dosa and allow it cook for a 1 minute or so.

That's it. Now remove the dosas and similarly prepare the coin dosa with the remaining batter.

Serve hot with chutney or sambar.
Make sure the dosa batter is not cold.
Also prepare the dosa over medium heat, so that the dosa doesn't turn brown.
Adjust the salt and red chili as per your preference.
You can include onions while preparing the carrot paste.
Instead of coin dosa, you can prepare regular dosa with this batter or uttapam with this batter as well.
Adapted from Nalini's Cooking