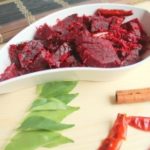 Print Recipe
Beetroot Poriyal | Beets Dry Curry
Tamil Nadu style, beet root poriyal or dry curry with coconut and the secret ingredient cinnamon. A perfect side for sambar and variety rice.
Medium sized beet roots - 3

Water for boiling the beets

Oil - 2 tsps

Salt - 2 tsps

Mustard Seeds - 2 tsps

Red chillies - 3

Urad dal - 1 tsp

Channa dal - 1 tsp

Curry leaves - a strand

Grated Coconut - 1/4 cup

Cinnamon - 1 inch piece
Wash the beet roots and peel the skin.

Chop them into quarters and microwave them in a microwave safe bowl by adding water for about 6 to 7 minutes.

You can also steam in stove top.

Let it cool and as I mentioned above, you can reserve the water for soups.

Chop the boiled beets into small pieces.

Now heat the kadai and add oil.

Once the oil is hot, add the mustard seeds, urad dal and channa dal. As they start to splutter, add the cinnamon and sauté for a minute.

Now add the red chillies and fry for 30 seconds.

Then add the chopped beets and salt. Mix them well.

(If you have boiled the beets completely, you can ignore this step) Drizzle some water, cover and cook for about 3 to 4 minutes so that the beets becomes tender and soft.

Once all the water is evaporated, add the grated coconut and mix well.

Saute for couple of minutes and that's it.

Yummy beetroot poriyal is ready.
As beetroots are root vegetables, make sure you wash them nicely.
You can also grate the beetroot and microwave them for about 5 minutes and prepare the poriyal in the above-said method.
Or you can also slice them and pan roast the same.
You can also add onions to this curry and skip coconut or add both.
I don't break the red chilies here as I mix this for the kiddo. You can either cut them into pieces or add 1/2 tsp of sambhar powder or red chili powder for more spice.
As usual, adjust the salt according to your preference.