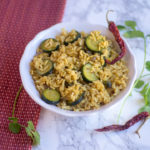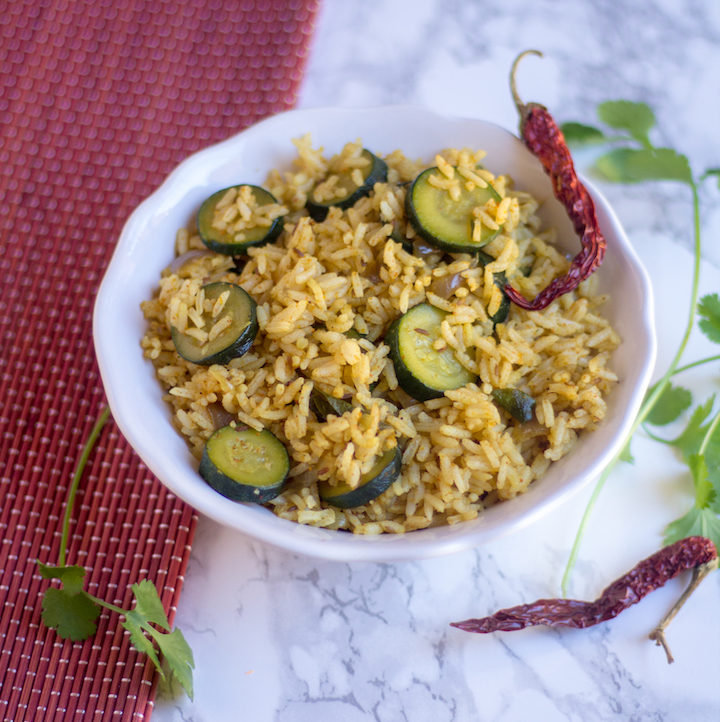 Print Recipe
Zucchini Rice | Indian Style Zucchini Baath
A delicious rice recipe prepared with the versatile vegetable zucchini with a tad bit of spiciness and loads of flavor coming from vaangi baath powder, garam masala, and sambar powder.
Oil - 2 tsps

Cumin Seeds - 2 tsp

Curry Leaves - 5

Hing - 1/2 tsp

Onion - 1/2

Small sized Zucchini - 3

approx 1.5 cups after chopping

Vaangi Bhath Powder - 2 tsp

Garam Masala - 1/4 tsp

Sambar Powder - 1/4 tsp

Salt - 1/5 tsp

Turmeric Powder - 1/4 tsp

Water - 2 tbsps

Rice - 1 cup

Water for cooking the rice - 2 cups

Cilantro for garnishing
Prep - Work:
Wash and cut the zucchini into small rounds. I did not peel the skin as it was tender.

Chop the onion and cilantro and set aside.

Cook the rice in your preferred way and allow it to cool before. I used sona masoori rice for this recipe.
Steps:
Heat a pan or kadai and add oil.

When the oil is hot, add the cumin seeds and hing.

Then add the chopped zucchini, salt, vaangi bhath powder, sambar powder, turmeric powder, and garam masala.

Sprinkle two tbsps of water and mix.

Cover and cook this for 5 minutes and remove the lid and cook until the water evaporates and the zucchinis are softer and tender.

Turn off the heat and add the cooked rice and mix thoroughly.

That's it. Zucchini rice is ready. Garnish it with cilantro and serve hot with raita.
You can prepare similar rice with chow-chow, ridgegourd, cabbage, bell peppers by replace zucchini or including along with zucchini.
Adjust the salt and spice as per your preference. I went with sona masoori rice. But you can use millets or quinoa or basmati or brown basmati.
Do not overcook the vegetables and make it mushy.