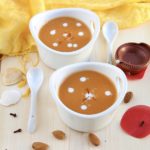 Print Recipe
Vegan Carrot Kheer | Carrot Payasam
A simple and flavorful Vegan carrot kheer, prepared with carrot puree and coconut milk and sweetened with cane sugar.
Carrots - 2

Water - 2 cups + 1 cup

Cloves

- 3

Cardamom - 2

Cane Sugar - 3/4 cup

Thick Coconut Milk - 1.5 cups

For garnish - saffron threads
Prep - work
Peel and chop the carrots roughly into small cubes or circles.

Dry grind the elaichi and cloves into a coarse powder.
Steps
Add the chopped carrots to a heavy bottom pan and add 2 cups of water and let it cook for about 20 minutes in medium heat or until the carrots are soft and tender.

After 20 minutes, turn off the heat and let it cool down for about 10 minutes.

Drain the carrot pieces and puree them. Do not discard the steamed water.

Now add this puree to the steamed water and mix well. Add one more cup of water.

Add the cane sugar, powdered elaichi and cloves and simmer it for 5 minutes.

Then add the coconut milk and mix well.

Let it simmer in low heat for 2 to 3 minutes and turn off the heat.

That's it. Yummy carrot kheer is ready. You can garnish it with saffron threads and drizzle some coconut milk on top.
I cooked my carrots on the stove top. But you can always microwave them or pressure cook them. Use your preferred and convenient way for cooking carrots.
Adjust the sugar as per your preference.
Instead of using saffron for garnish, you can add them to the kheer also.
Any dry fruits or nuts can be used for garnish.
Preparing coconut milk:
For 1 half of freshly grated coconut ( Break the coconut into two halves and grate the one half) add 1 cup of lukewarm water and grind it.
Squeeze out the milk and this is the first and thick coconut milk.
Grind again by adding 1 cup of water and extract the milk and this is the second and thin coconut milk.
For this recipe, you need thick coconut milk.
Non – Vegan Alternatives:
Of course, instead of coconut milk, regular milk can be used.
Along with cane sugar, condensed milk can be used for additional rich flavor.
You can temper dry fruits and nuts in ghee and add it to the kheer.