This zucchini kootu or dal or pappu is prepared with moong dal and zucchini (obviously) and this goes well with rice and roti. For me kitchen is a place for trying out different food experiments. This recipe is from one such experiment. When I was making poori Masala, I was wondering what if substitute zucchini in place of potatoes. Why not? I tried with just two variations. Usually for poori Masala, I don't add tomatoes. During my first attempt I added tomatoes and also coconut to get feel of usual kootu. It did came out good but it didn't become a real big hit. So tried one more variation and this turned out to be a hit. In fact hubby mentioned it was like Saravana Bhavan Style kootu. ;-) ;-)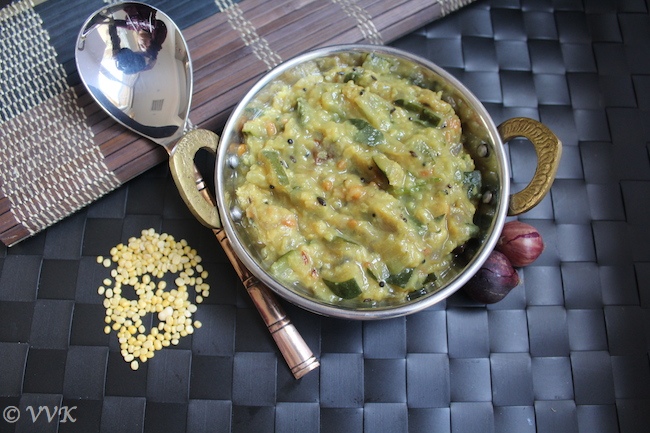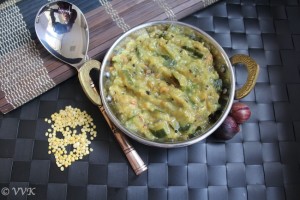 Ok here is the recipe,
Ingredients:
Zucchini: 3
Onion: 1 medium sized
Red chillies: 4
Oil : 2 tsps
Mustard seeds: 1tsp
Urad dhal : 1 tsp
Channa dhal: 1 tsp
Cumin powder: 1/4 tsp
Turmeric powder: 1/2 tsp
Salt – 2 tsps
Moong dhal – 1/4 cup
Water: 1 cup
Garlic cloves : 2
Hing : 1 tsp
Steps:
Pressure cook the moong dhal with the garlic cloves and mash it well.
Heat the oil and add mustard seeds, urad dhal and channa dhal.
Break the red chillies and add them as the mustard seeds starts to splutter.
Add hing and onions and fry them till they become translucent
Add the chopped zucchini and sprinkle some water and cover and cook for 3-4 minutes.
Now add salt, cumin powder and turmeric powder and cook till the zucchini becomes tender.
Now add the mashed moong dhal mixture and let it boil for couple of minutes and that's it. :-)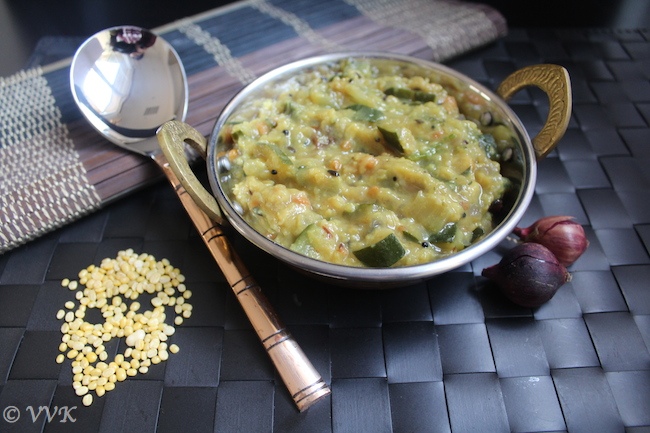 Zucchini kootu/dhal is ready.
Notes:
You can add chopped ginger.
As red chillies are the only spicing agent, adjust accordingly.
You can do this kootu with chow-chow, bottle gourd also.