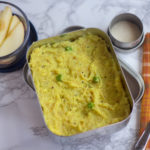 Print Recipe
Semiya Kichadi
Semiya Kichadi is a delectable upma kichadi made with rava/semolina and semiya/vermicelli with fresh ground coconut ginger paste.
Roasted Semiya - 1 cup

Roasted Rava - 1/2 cup

Thinly Sliced Onions - 1/3 cup

Oil - 1 tbsp

Mustard Seeds - 1 tsp

Urad Dal - 1 tsp

Channa Dal - 1 tsp

Cumin Seeds - 1/2 tsp

Green Chili - 2

Hing - a pinch

Frozen Peas - 2 tbsps

Salt - 1 tsp

Turmeric Powder - 1/4 tsp

Cilantro - to garnish

Water - 3 cups
To grind:
Grated Coconut - 1/4 cup

Ginger - 1/2 inch piece

Water - 1 to 2 tbsps
Prep-Work:
Cut the onions thinly and green chili into small pieces.

Thaw the frozen peas by soaking it in water for 5 minutes or microwaving it for one minute.

Grind the coconut and ginger by adding 1 to 2 tbsps of water.
Steps:
Heat the pan and add the oil.

When the oil is hot, add the mustard seeds, urad dal, channa dal, cumin seeds, and hing.

When the mustard seeds splutter, add the chopped onion and green chili.

Now add the ground coconut paste, salt, and turmeric powder.

Mix well and let it cook for a couple of minutes.

Now add the three cups of water and bring it to boil.

Slowly add the roasted semiya and rava. Keep stirring while adding the rava and semiya so that it doesn't form lumps.

Reduce the heat to low and it the rava and semiya cook.

Keep stirring for every two minutes.

When the rava and semiya mix has absorbed 90% of the water, turn off the heat and cover it with the lid.

Allow it to cool for five minutes, and that's it.

Semiya Rava Kichadi is ready. Garnish it with cilantro and serve hot with chutney or sambar.
You can vary the rava and semiya proportion according to your preference.
Also, you can add more veggies like carrots, beans, and cabbage even.
We usually add more water for kichadi than regular upma, and also we prefer the thick porridge consistency. But if you don't like it that way, reduce the water by 1 cups and add just 2 cups of water.
Make sure you keep mixing the kichadi while adding the rava and semiya, if not they clog and form lumps.
Last but not the least, adjust the salt and spice as per your preference.