Life is crazy and hectic. This weekend was an exiting weekend for us in Team IMC. We participated in the FETNA event and we won.:-) :-)  You know read about it here.
I will be posting couple of guest blog posts in the coming days. I am not sure if I will be able to post from India.    But lets see. :-) Here is another simple home made remedy that I wrote for 3 curious monkeys.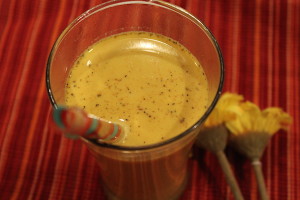 Turmeric Milk or Haldi Milk (Hindi) or Milahu Paal (Tamil) is a traditional home remedy for sore throat, cold and allergies. It consists of boiled milk along with turmeric and freshly grated pepper corns / pepper powder. You can add palm sugar / sugar candy / panagal kandu for adding sweetness and it becomes perfect for kids too.
Pepper Corns are known for its anti-inflammatory properties and also good source of many anti-oxidant vitamins such as vitamin-C and vitamin-A.  Turmeric is known for its antiseptic properties. According to Wikipedia The active compound cur cumin is believed to have a wide range of biological effects including anti-inflammatory, antioxidant, anti-tumor, antibacterial, and antiviral activities, which indicate potential in clinical medicine.
No wonder this Turmeric- Pepper milk is so popular!
Here is the recipe.
Ingredients:
· Milk – 2 glasses
· Turmeric powder – 2 tsps
·  Freshly grated pepper powder – 2-3 tsps
·  Palm Sugar (optional) – 1 tbsp
Steps:
· Start boiling the milk along with turmeric powder and when it starts to boil         add the freshly grated pepper powder and stir it for a minute.
· Turn off the heat and let it cool for couple of minutes.
·  If required add the palm sugar and mix well.
That's it. Turmeric milk is ready. Have the milk when it is hot or at least warm.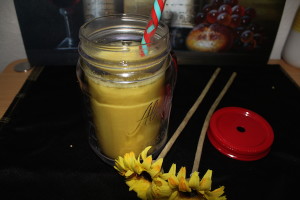 0