Few years back we tried Ethiopian food in Sunnyvale. I was amazed by the food and the food reminded me of our Indian food especially the dals and dry cabbage curry. They have good variety for both vegetarians and non-vegetarians. The way they serve the food is unique. They prepare the Injera or the Ethiopian bread which is pretty much like our ragi dosa and lay it out in a plate and then place all the curries in a circular fashion with their salad in the middle. And you will be getting individual plates of Injera too.
When I wanted to try the Injera bread and any one of the curry I came across this site. They have image of how the meal is being served. Do check this site. It's a wonderful article with all the recipes. A great read about the vegetarian meal of Ethiopia. So I took the recipes from there and modified the portion sizes. One thing I need to agree with the author. This cuisine uses a lot of turmeric and ginger-garlic paste.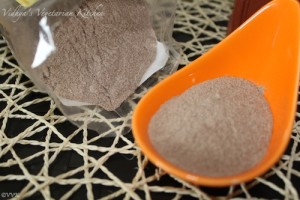 So for the Injera I went with store bough teff flour. Teff is a grass species native to Ethiopia which produces tiny seeds similar to millets and quinoa but much smaller than them. It has high dietary fiber and iron. I got the teff flour from Amazon and I have included the link below the recipes. The process is pretty much like our dosa. Mix the flour with water and let it ferment and prepare like dosas.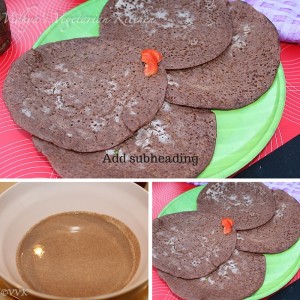 Check out the side that I prepared for this Injera. – Yekik Alicha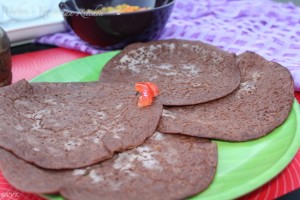 [yumprint-recipe id='5′]